Subscription for cloud solutions
The SAP S/4HANA Private Cloud and SAP S/4HANA Public Cloud solutions offer a subscription model, i.e. a fixed monthly or quarterly fee that includes a much wider range of services than in the traditional licensing model. The main difference is that the Client, when opting for the innovative RISE with SAP solutions, does not have to buy and maintain their own hardware infrastructure. This means that the scope of services in the RISE with SAP subscription model gives Clients more options than the traditional on-premise model.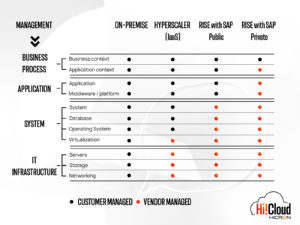 Benefits of the subscription model in RISE with SAP
RISE with SAP removes the responsibilities of maintaining and managing infrastructure from the Client, so when calculating the TCO, appropriate assumptions should be made to reliably estimate and compare the cost of implementation and maintenance of the system over the assumed period. Caution should be exercised when trying to compare expenses in the two models. Hicron experts have the knowledge and tools to accurately calculate long-term costs, taking into account changes in the hosting model.
If you want to know the estimated cost of implementing and maintaining the SAP S/4HANA Cloud system in your company, please contact us using the contact form.