There is a continuous increase in the number of companies looking for systems tailored to their specific needs, but even the right support does not always guarantee a successful implementation of cloud solutions. Understanding the benefits of the solution is a prerequisite for choosing the right system.
More and more companies are choosing to implement ERP in the cloud, and statistics show that there are fewer and fewer on-premise implementations. What features and benefits do cloud systems offer? What makes them highly sought after do they continue to grow in popularity? Below you will find these and many more questions answered.
FORECAST 1: The coming business-friendly clouds will offer software compatibility, constant updates, and security.
Cloud solutions are a guarantee of development in line with today's rapid pace of business change. Given the high dynamics of the environment, organizations require tools that are updated just as quickly and efficiently.
A system that keeps up with modern companies
This is exactly what cloud-based systems do. Their great advantage is the adaptability to changes in legislation, requirements, and technological conditions. Unlimited data storage capacity offers great possibilities. But cloud tools provide more than just secure storage space for all of the organization's business-related data, they also offer compatibility with the organization's existing solutions, seamless synchronization, streamlined updates, automation of many processes, and the ability to adapt to current conditions.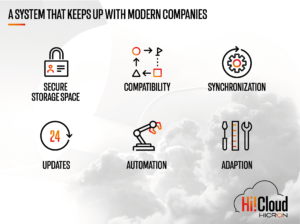 Helping businesses take the lead
Today, the vast majority of companies are supported by ERP systems, and those that are successful and focused on dynamic growth are increasingly often opting for cloud-based software. This is because it enables upgrading the technological infrastructure and the tools they are equipped with. Leveraging cloud-based solutions also enables reducing the number of applications and tools to a minimum. For leading manufacturers in particular, a single cloud-based ERP system often provides all the functionality the users need. Therefore, according to statistics, more and more companies are choosing to implement the most popular ERP systems in the cloud, instead of smaller ones.
By relying on such solutions, modern companies can strengthen their market position. Keeping up with the pace of development and aligning business policies and strategies with current customer preferences and technological requirements makes organizations competitive and fuels customer interest.
FORECAST 2: Cloud ERP systems will not raise the pressure of their users
As research shows, entrepreneurs often choose to switch to more modern ERP software because of its greater functionality, compatibility with other applications, and convenience.
Structured and effective changes
Advanced cloud solutions are equipped with tools that allow businesses to transform conveniently and, above all, in a way tailored to their needs and capacity, thereby making their development controlled, systematized, and properly organized. The excellent compatibility of modern cloud-based ERP systems means that they can even support users in pinpointing operational areas that require special attention. Also, the robust technological structure of such solutions translates into increased operational efficiency. It also improves market visibility and the effectiveness of process analysis through standardization, better integration of the application environment, and improved user collaboration.
Comfort for each user
With the unlimited possibilities of expanding the database, the cloud environment also makes it possible for teams involved in individual projects to carry them out uninhibited. Users can find the necessary information, documentation, or spreadsheets in the fastest possible way. ERP systems based on cloud technologies enable the creation of a comprehensive, perfectly equipped, and intuitive environment. With such a solution, employees perform tasks in a comfortable environment, which speeds up their execution, improves satisfaction, increases team productivity, and even supports the development of their potential.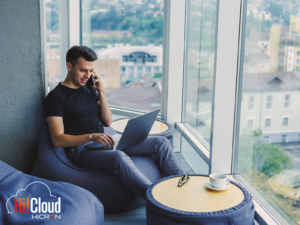 FORECAST 3: The clouds will provide favorable modernization conditions and an efficient working atmosphere
Deciding to implement a cloud-based ERP system significantly contributes to the modernization of the organization. It allows you to adapt it to current standards and the needs of both employees and customers. Such solutions are based on a robust technology, which enables increasing the capabilities of any team. From accounting, to finance, procurement, production, HR, logistics, IT, and management departments, each area of operations can benefit from a dedicated space that will change according to the individual needs of its users. This allows employees to focus on their tasks and their role in the team, thereby increasing their productivity and project efficiency.
Changes that open up new opportunities
As your business evolves, so does your cloud ERP system. With a carefully selected and customized cloud solution, an organization can not only easily adapt to changes in its business model, processes, or core principles but also significantly benefit from such transformations. Important decisions can be made, major changes can be introduced, and projects can be overseen without interruption. Cloud systems guarantee access to data and workspace continuously, from anywhere in the world and at any time. Such software adapts to any modernization carried out in the company. Therefore, business evolution does not hinder the operation of a cloud ERP system. Quite the contrary: it is an opportunity to expand it and make it even more customized.
FORECAST 4: The constantly improving umbrellas of cloud capabilities will remain ready to support your organization.
The huge interest in and demand for cloud versions of software means that older versions of ERP systems built on traditional models are beginning to become obsolete. The ever-changing market expects the most up-to-date solutions and functionality tailored to the latest technologies. It is not just a matter of the operational convenience that individual teams achieve, but also cooperation with clients. Clients are reaching for new solutions, software, and applications. As a result, they choose to do business with companies that are focused on innovation and can better meet their needs. An offer featuring superb services and products and professional support is one of the most important aspects to consider when choosing technology for an organization.
Advanced, ultra-modern, proven cloud-based tools provide a solid foundation and comprehensive support in the implementation of projects conducted with or for the client. Traditional ERP systems are less and less likely to provide tools that meet the latest technological requirements. Cloud software, however, is not only up to date, but also constantly evolving, and its developers are striving to adapt it to other tools, making it possible to create a harmonious environment of cooperation between the enterprise and the client.
SAP S/4HANA Cloud – good forecasts for your business!
The improvements resulting from the implementation of cloud-based ERP systems have an impact that extends beyond the convenience of employees, and results primarily in client satisfaction. Organized projects, streamlined deliveries, professional employees, expert support, and a system that also supports users of the company's services are among the many benefits offered by state-of-the-art cloud ERP software.
Choose a proven system, tailored to the needs of business to guarantee a successful implementation. SAP S/4HANA is one of such systems. As a leading provider of ERP tools, SAP offers an ultramodern environment for companies irrespective of their scale and location. It is compatible with a wide range of solutions, and can be adapted to the client's existing systems. It also provides constant control of all company departments through real-time data analysis and processing.
One of the goals of the system, which was achieved beyond expectations, was to create a single, shared space linking the operating system with the database and user interface. SAP has implemented this plan and continues to develop and improve it. Thanks to this and many other advantages, SAP S/4HANA has earned the trust of thousands of users and the largest and most modern enterprises.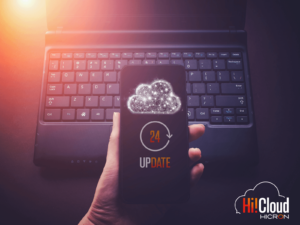 Together, let's say goodbye to the old limitations. Hi!Cloud from Hicron
At Hicron, as long-time SAP partners and experienced business consultants, we put the relationship with our clients first. Our projects are based on proprietary solutions tailored to the individual needs of the companies cooperating with us. Our specialists, including developers, consultants, and experts, work on ERP implementations in accordance with changing technologies, market situation, and above all, accommodating the needs of our clients.
Are you looking for an experienced and trusted implementation partner? Do you need the support of an expert to guide your organization through advanced SAP S/4HANA structures? Contact Hicron consultants!