Table of contents:
Rapid growth
The dynamic changes taking place in the world generate new needs. The longer time spent by employees at home often caused them to change and adapt their private space to also serve as a workplace. This has certainly led many to look for inspirations for home office transformation on the Internet. Many of such activities ended with the purchase of relevant products or services online. The transformation of reality and the growing popularity of marketplaces increased the expectations of potential customers. Esthetically pleasing, responsive, intuitive, and thoughtfully designed websites elevated the standard of virtual consumer service. Thus, their requirements have also become greater. This applies to most service sites.
Within two years, e-commerce sales increased by almost two billion dollars. It is estimated that by 2023 this number will more than quadruple compared to the results from 2020. The upward trend in online sales is a reason to consider major changes in how businesses are run. This applies not only to the sale of products, but also to all kinds of services and solutions. The more high-quality and accessible websites on the market, the higher the expectations of the majority of users. A wise entrepreneur knows that trends have a huge impact on running a business. It is, therefore, worthwhile to analyze them thoroughly.

Omnichannel approach
One of the important trends in e-commerce in the coming year will be the turn towards omnichannel. This sales model has developed mainly due to the pandemic and is constantly gaining momentum. Customers utilize a number of ways to get in touch with the store/service provider. They make the choice to buy a product/service after seeing the site on different devices, social media, marketplaces, comparison sites, reviews, or video blogs. Contact with the seller is also important for the consumer. It is not just about phone lines handled by consultants, but also fast flow of emails, chats on sales sites, or online advisors. Before a potential customer makes a decision, they often check the product using every channel possible. In addition, experts are reporting a shift from e-commerce towards IRL (In Real Life). Shoppers more and more frequently decide to buy in traditional sales outlets. Online sales are slowing down a bit, but customers still remain demanding and their expectations of virtual shopping are even growing. It is, therefore, worth refining sales and communication channels to make them as attractive and responsive as possible, as well as to present the product/service in virtual form in the best possible way. Both brick and mortar and virtual outlets of the same enterprise should work together, in agreement and harmony, focusing on their user. A satisfied buyer becomes loyal, supportive, and recommends their favorite product/service to others, thus driving sales.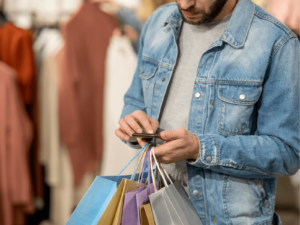 Mobility
With the constant development of smartphones and their almost unlimited capabilities, their application is expanding. Phones have long been used for more than just making calls or texting. They help us monitor our health, make appointments with professionals without calling, travel, navigate, or work, so it is only logical that they also support us in shopping. The pandemic has only accelerated their development in this respect. More than half of purchases in the e-commerce space are made via mobile devices, primarily smartphones. This means that sales sites should be tailored first and foremost to the needs of their users. The sites should load quickly and be functional enough to make transactions, even on the way to work. It is important that m-commerce (mobile online sales) provides the buyer with the ability to adjust payments to their needs. BLIK, Apple Pay, Google Pay – all of these solutions and many more like them should be included for mobile versions of e-commerce.
Social commerce
It would seem that social networking sites are mainly for entertainment, sometimes advertising and sharing the thoughts of their users. However, the rapid development of this type of sites and the extension of their functionality by architects proves their great importance in the virtual space. For some users, social networks even go beyond the Internet. It was only a matter of time before such applications started offering business accounts. When it comes to the legitimacy of bringing commercial activity to social media, the numbers speak for themselves. Sales from such sites account for about $992 billion as of 2022. The projected growth of these sales for 2023 will account for 20% of global retail sales in e-commerce. Currently, most companies run their profiles on the most popular social networks. Their image in this space is very important. Consumers are eager to learn about their posted content, promotional campaigns, and initiatives. Streamlining shopping options in social media, as well as increasing their attractiveness for a potential customer, has and will certainly have an impact on e-commerce profits in the coming years.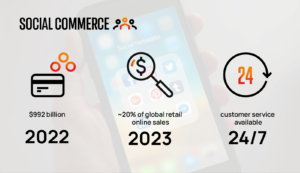 Customer service at its best
The essence of this aspect probably does not require much explaining. It is certain that excellent service can ensure long-term customer loyalty. In e-commerce, this involves not only courtesy toward the buyer, but also constant access to a sales assistant. When offering virtual sales, it is important to ensure that the buyer can receive support at any time of the day and throughout the year. However, this does not mean that companies need to have employees available around the clock. It is worth taking advantage of chatbots, which can automatically propose solutions that are beneficial and convenient for the customers. Another form of consumer support is, of course, exchanging messages via social media, telephone support, or even "live" chat with a consultant. All of these options increase the likelihood of success. With such solutions, the customer has the opportunity to choose a convenient way to contact the seller.
Inflation
This aspect has its unpleasant consequences for most companies. The problem extened to 2023. This has long-term effects not only in the form of budget cuts, but also in customer behavior. Inflation has affected their money management and now most of them consider the majority of purchases very carefully. Sometimes they may also want to undo their decisions. Good e-commerce should support buyers in making returns. The simpler the cancellation process is, the more likely they are to return to the site where they made the purchase. Actions benefitting the consumers bring, above all, positive effects for business. It is worth supporting users in making choices, but also in changing them. As many as 92% of those returning a product decide to buy again in the same store if the return procedure was convenient and quick.

Only sustainable development
In direct proportion to the rising inflation, consumers awareness of the impact of trade on the planet  is also increasing. Statistics clearly show that as a result of the coronavirus pandemic, buyers' concern for environmental issues has developed even further. Furthermore, they declare that they are willing to spend more on a product or service if the production is sustainable. As a result, a lot is changing in the functioning of e-commerce. Customers are more likely to choose brands that, for example, choose biodegradable packaging for their products, stop using plastics for packaging purposes, produce articles from recycled materials, and their shipping takes longer because of the chosen eco-friendly mode of transportation. These are just examples of many green solutions. Environmentally friendly solutions attract customers even if they have to spend more on them.
Re-commerce, because good doesn't have to mean new
This trend is directly related to sustainable development. The higher cost of living and growing awareness of the condition of the planet are driving shoppers to buy second-hand items. This trend is driven not only by thinner wallets, but also by the desire to live in a healthy environment. Such changes are especially caused by the actions of the younger generations who are just entering the consumer market. They mobilize those around them to make reasonable purchasing decisions, knowing how important the future is to them. Out of concern for nature, they buy second-hand clothes and appliances. Large brands follow their example, using clothes supplied by customers who have worn them out, but not to the point of throwing them away. They are reused in the production of new articles. In addition, some companies opt for a lifetime warranty policy on their products. This allows buyers to repair them at the manufacturer instead of throwing them away, preventing the generation of new waste.
Personalization
In a multitude of stores and sites selling services via e-commerce, modern users are looking for those that tailor their offerings to their preferences. Regardless of whether the recipient is an individual customer or a large organization, it is worth investing in tools that track web traffic and offer customized solutions. Too much choice can leave consumers feeling confused and discourage them from continuing shopping. As many as 60% of respondents admit that products/services selected especially for their needs encourage them to buy again.
Subscription sales
Another trend that the pandemic has only strengthened. The desire to avoid crowds and visits to stores resulted in cyclical purchases on the same e-commerce sites. The ability to automate this process has been appreciated by customers for its convenience. It is the store that takes over the responsibility for ordering goods and services to the customer, so they do not need to remember about it. Subscription commerce already accounts for almost 35% of weekly online purchases. They allow the users of online stores to devote their time to something other than shopping. They will certainly appreciate such an opportunity and return to the e-commerce website offering such a solution.

Buy online, pick up in-store
The effectiveness of this commercial strategy was already known to many companies long before the COVID-19 pandemic. However, it is the limited ability to make traditional purchases and security issues that prompted many sellers to start delivering shipments not to the customer's address, but to the store of their choice or a cooperating intermediary. This form of delivery provides customers with the convenience of collecting the shipment at any time. In addition, it allows them to save money because shipping to a store is usually free. These two aspects build buyer loyalty to the company. The more convenient the way to pick up an order, the more often the consumer will decide to buy from brands that offer such solutions. BIOPIS, or buy-online-pickup-in-store, is growing to such an extent that by 2027 this market is estimated to reach USD 703 billion.
Mobile payments
The method of payment offered by e-commerce is of great importance to the buyer. Thus, it should also be important for a company selling online. The entire online shopping process should be easy, including making transactions. One of the most popular reasons for cart abandonment in e-commerce is a complicated or insufficiently varied payment process. Currently, the ability to complete a purchase via a mobile wallet, PayPal, or other electronic payments is becoming the standard for e-commerce. Flexible transactions are also important in this context, allowing the buyer, for example, to defer payment for the purchased goods, thanks to 'buy now pay later' option.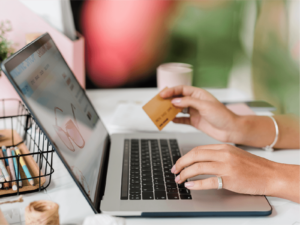 Young generations are changing reality
Generation Z has already entered the sales market. An even younger generation is preparing for this, i.e. representatives of the Alpha generation born after 2010. Both groups are radically different from the consumers the e-commerce market is "used to". They draw inspiration to make purchases from social media and the process of searching for products/services tailored to their needs should be quick. Since these buyers are looking for recommendations and shopping reviews on TikTok, this heralds a significant change coming to the e-commerce market. Representatives of this generation are the driving force of the online commerce market. 32% of them already declare that they will spend more on online transactions during the holiday season. Young consumers have an excellent understanding of technological innovations that are an integral part of their daily lives. As many as 55% of representatives of the mentioned generations use smartphones and other mobile devices for more than 5 hours each day. Therefore, their expectations for online shopping are extremely high. Generation Z and the upcoming Alpha expect the e-commerce market to keep up with their needs. They expect intuitive, fast, and responsive tools and solutions. Omnichannel in this case is fundamental. Since purchases made by the young generations depend on how products are reviewed on social media, retailers must adapt to the needs and requirements of the buyers entering the e-commerce market.
Augmented reality, metaverse and artificial intelligence
Photos and videos in e-commerce sales have long been the bare minimum that should appear on product/service pages. The technological solutions used by modern sales websites are driving changes in the models of presenting items to the customer. Such changes are also imposed by the buyers themselves, who increasingly often use augmented reality (AR for short) or the metaverse. Users reach for them both for entertainment (games, applications) and education (e.g. simulators). Why should entrepreneurs not use these tools as well? In fact, they are already doing it. More and more often, when looking for specific products, you can find online stores that offer the option to visualize their products or services (this is especially useful in the case of personalized items). This form of displaying the offer can utilize 3D models or even demo versions in VR (if we are talking about computer games, for example). Studies show that 3D models alone make buyers almost 50% more likely to make a purchase than product images alone. Although the metaverse in the case of online stores offering tangible goods usually exists only in experimental versions, its huge potential is still visible, especially in the clothing, beauty, and household goods industries.
Delivery – promises to be fulfilled
In a reality where instant messaging, working from the most distant corners of the world, and moving to other realities via VR are all possible, tracking shipments should be an absolute must. Modern buyers expect simple and easily accessible information from the seller about the status of their order. But that is not all. The time from placing an order to its delivery to the recipient should be as short as possible. Two weeks to ship products is far too much, even when huge distances are involved. The giants of e-commerce have definitely raised buyer expectations with their practices. Their products and services often reach customers in up to two days, during which they can constantly track the status and geographic location of their orders. It is extremely important for sellers in the e-commerce space to perfect the shipping and communication channel with their recipients. Buyers declare that transparency in terms of orders is very important to them and impacts their assessment of service quality. In order to meet the enormous requirements of customers, it is advisable to seek expert advice and specialized support in developing strategies for order fulfillment and communication. This will only improve the image and sales results as well as support the implementation of the company's business strategy.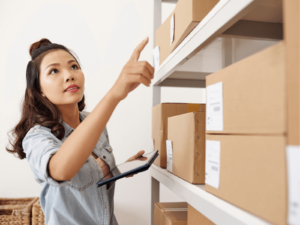 Users come first
When building an e-commerce strategy, you should always, first and foremost, keep your customers in mind. Without them there is no sale. In fact their interests should be paramount to the seller. It is, therefore, important to ensure their satisfaction. They are the best driving force for the company. The more satisfied they are, the more willing they become to share their good opinions and honest reviews of products and services. That is why UGC (user-generated content), which is all the content that buyers create about the seller and the brand, works so well. Videos reviewing or recommending products/services on TikTok constitute a special form of product/service promotion. They are 22% more effective than any promotional video materials created by the producer on their own. Additional value is provided by reviews published by popular users on the web. Their referrals drive sales and generate profits for the seller. A good way to increase brand popularity among customers is to invest in cooperation with popular users. This boosts buyer confidence and plays a critical role in e-commerce sales. For recipients, they are definitely more credible than promotional materials published by the brand itself. Favoring customers is beneficial for business.
How will you capitalize on the e-commerce trends of 2023 with Hicron?
In order to support the needs of enterprises that have partnered with us, we make every effort to implement effective practices and meet the expectations of users in the upcoming 2023. Our specialists are constantly expanding their knowledge and developing skills to best support your organization. Do you want to know what path to take to align your business with online sales trends for the coming year? Contact our e-commerce consulting experts. They will help you adapt your business processes and infrastructure to the expectations of customers.
Source: The future of e-commerce