This space is significantly influenced by several giants, with Amazon (from US) at the forefront. Other big and most influential marketplaces are: Taobao (from China), Tmall (from China), JD.com (from China), Pinduoduo (from China), Walmart (from US) and eBay (from US). It is easy to notice, that the biggest marketplaces are located in Asia, more specifically in China. Then the biggest part of online market is ocuppated by American marketplaces. However, in the Polish reality, all sales platforms are firmly overtaken by Allegro, the most popular site of this type among Poles.
Popularity of online marketplaces over the world
However, before poish local counterparts appeared on the market, buyers had to settle for Western, for example eBay or Amazon. However, it did not take long for Allegro, which is still leading the way, to emerge on polish domestic market. It is the leader of online sales and purchases among Poles and the most popular platform among polish consumers. It is also the marketplace most frequently chosen by polish companies that want to present their offer to local online buyers. This store is getting more popular not only on polish market, but also abroad. It is a part of the group of biggest marketplaces in Eastern Europe.
Boom during lockdown
The subject of the pandemic is inevitable in discussions about the development of modern business. This time undoubtedly changed society irreversibly, including buyers and sellers. During the difficult time of isolation, the ability to go out shopping was drastically reduced. Many consumers were afraid to leave the safety of their homes, did not want to or could not enjoy the luxury of shopping in regular stores. Those unconvinced about online shopping quickly gave in, and many of those who previously only made their purchases in traditional stores decided to go online.
Global and local
One of the reasons why both customers and sellers choose large online shopping platforms is the availability of products. Marketplaces bring together many companies from different parts of the world or distributors providing access to products that cannot be purchased in traditional stores. Buyers can select their shopping from vast product choices. They make it possible to instantly purchase and deliver spare parts for machinery, hard-to-find spices, or cosmetics from the other side of the world. It is similar for products specific to a given region or willingness to support local producers. Many small entrepreneurs producing local specialties, creating art or handicraft can list their products on sales portals, thus making them more easily accessible. This helps them grow. Thanks to maketplaces they offer customers their own products with almost no limits. All of this examples are the reason why marketplaces around the world are expanding and why they'll continue to develop.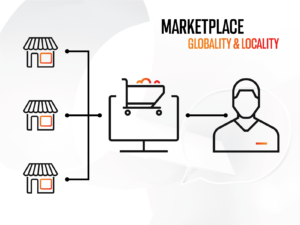 Fast and convenient delivery
Another advantage of marketplaces is easier product delivery. The requirements that the platforms impose on sellers oblige them to follow specific practices regarding the shipment of purchased products. This makes it necessary for entrepreneurs to ensure efficient shipping and allows buyers to track their packages virtually at all times. Strict delivery regulations also ensure that they reach the customers quickly and minimize the risks associated with delivery (losses, delays, damage). Marketplaces are often synchronized with shipping applications, making it easy to choose a convenient delivery method and time, print a shipping label, change the date of shipment or the place of pickup. The factor that often makes consumers buy the same product in a marketplace instead of the manufacturer's store is free delivery. In fact for sales sites, it is slowly becoming the standard. In addition, marketplace giants often offer their customers packages which provide the ability to use free delivery for an entire year after paying a single fee. This gives buyers a sense of saving money and of course, it is a quick and easy way to buy needed products.
Wealth of offers and platforms
Making your offer easily available for sale without having to set up your e-commerce platform is a dream of many enterprises, especially smaller in size. Most of online marketplaces are providing such an opportunity. This helps many sellers save the enormous resources it takes to run their own online store. In addition, it is a great convenience for buyers. They can purchase a wide variety of items from many entrepreneurs or artisans without having to move to other tabs. Transactions for several products add up, and the delivery can be selected in a single window. Entrepreneurs and buyers can choose from a large variety of online marketplaces offering multiple solutions. More and more are opening up very quickly, offering countless opportunities for both sides of the transaction. Products of the same seller are often listed on several different portals. This allows customers to find the most attractive offer for themselves, while the seller can reach a wider audience with their products. In fact this solution also supports companies that already have their online stores. Multi-channel sales builds recognition and presence in the recipient's mind. It also has an impact on the popularization of the company's offer/services.
Security
Marketplaces are providing their customers with access to trusted sellers. Most of these portals require the sellers to pass an often complicated verification process. This protects buyers against fraudulent transactions and reinforces the credibility of entrepreneurs. What is more, users have full access to individual store reviews issued by previous customers. Such methods of sales control provide consumers with protection for their purchases.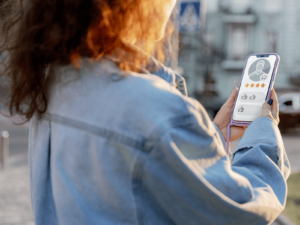 Analytics to build lasting relationships
The last important aspect that is worth discussing in the context of the popularity of marketplaces is the issue of analyzing customer needs and behavior. The marketplace infrastructure studying the needs of buyers is sophisticated enough to select the best deals closely tailored to their needs. Such solutions help users find the products they are looking for faster and give them access to the most favorable offers. This provides marketplace platforms with a really high and stable position.
How can Hicron help your e-commerce platform?
We are constantly expanding our competences and want to support the development of our Clients. Hicron's team of e-commerce specialists will help your company apply the best solutions tailored to its processes and business strategy. Do you have any questions about online sales? Contact our consultants.
Source: