What is SAP HCM for S/4Hana?
SAP is among the world's leading solutions in the world for human resource management, competence building, and increasing employee motivation. However, the company is not resting on its laurels and continues to develop its functionalities, for example, in SAP SuccessFactors it is expanding Time Tracking, Central Master Data Integration, and Next Generation Payroll. At the same time, it strives to respond to the requirements of individual countries on an ongoing basis, so new releases improve additional aspects.
SAP HCM for S/4Hana is a new solution based on SAP ERP HCM, optimized to take full advantage of the capabilities of SAP S/4Hana.
What are the features of SAP HCM for S/4HANA?
Product
Scope matches the SAP S/4HANA Compatibility Pack (for HCM) and the key functionality of SAP ERP HCM.

Anticipated changes in some HCM functionalities.

Available in Q4 2022, follows SAP S/4HANA maintenance strategy until 2040.
Transition
Customers can run HCM embedded or on a separate SAP S/4HANA instance.

Customers will need to migrate to SAP HANA or Success Factors.

Appropriate tools and services will be provided to help facilitate a non-disruptive migration from SAP ERP HCM to SAP S/4HANA.

It is reasonable to verify and adjust license/subscription versions.
UI/Fiori – self-service and more
Existing Fiori 2.0 apps for self-services run in SAP HCM for SAP S/4HANA.

Step-by step approach to bring existing Fiori apps for Managers and Employees to SAP S/4HANA Fiori technology

New Fiori role for HR Professional which combines Fiori UI and WDA-services for employee data maintenance.

Fiori roles with the Fiori 3 space concept.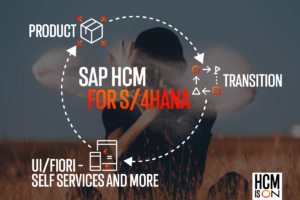 Changing the existing user interface
Scope of HCM components supported in SAP S/4 HANA, on prem-edition
Personnel Management
Personnel Management

Organization management

Benefits

Enterprise compensation management

Personnel cost planning and simulation

Pension scheme

MSS / ESS (WDA and Fiori)*
Payroll
Payroll

SAP Travel Management (part of SAP S/4HANA)
Talent Management
SAP Learning Solution *

SAP E-Recruiting

Talent Management and development

Objective settings and appraisals
Time Management
Public Sector
Position budgeting and control

Shift planning for public sector
ATTENTION! Some of the known SAP HCM ERP  functionalities will not be part of SAP Human Capital Management for SAP S/4HANA on-premise. These functionalities are part of SAP Success Factors and in order to use them, it is recommended to use this tool.
Core HR
Employee Interaction Center (PA-EIC)

Shared Service Framework for HCM-Integration (PA-SSF)

HCM P&F with Adobe forms

Manager's Desktop (PA-MA)

Workforce Viewer (PA-PAO-WFV)

Cost Planning (PA-CM-CP)
Talent Management
Recruiting (PA-RC)

Compensation Management (PA-CM)

Appraisal Systems (PA-PD-AP)

Career and Succession Planning (PA-PD-SP)

Development Plans (PA-PD-DP)

Training and Event Management (PE)
Which SAP S/4HANA transition scenario to choose?
Depending on the previously used architecture, several scenarios of transition to S/4 HANA are possible. The new offer for Customers gives them the option to transfer HCM (as a separate solution or embedded in ERP) to S/4 in a private or public cloud.
If Compatibility Packs (CPs) have been used so far, a system upgrade will be required.
Depending on the chosen solution, there are several transformation paths, but two dominant ones stand out:
SAP HCM for S/4HANA Private Cloud Edition and

SAP HCM for SAP S/4HANA On-Premise (H4S4)

Full HXM Public Cloud.
Before making a decision, it is worth taking advantage of the tools available to prepare for the transformation and use the advice of an SAP Partner.
At Hicron, we offer a 3-stage program to accelerate the transition to the cloud:
STAGE 1: Discovery
During this stage (approximately 2 days of online workshops), you will learn and understand, together with your HR experts and IT specialists, all the possibilities related to moving to SAP SuccessFactors or S/4, tailored to your HR strategy.
STAGE 2: Evaluation
At this stage (approximately 5 days of online workshops), you will assess the complexity of your HR area in terms of IT solutions and learn the key aspects and next steps of transformation that need to be taken to design a transition path.
STAGE 3: Plan
In the third stage of the program (approximately 12 days of online workshops), we will start your migration to the cloud by defining the To be Process architecture and creating detailed implementation and deployment plans for the cloud transformation.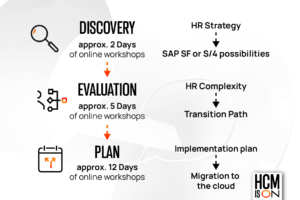 In accordance with SAP best practices, we will guide your HR transformation by verifying existing licenses and determining what steps should be taken first. Want to learn more about SAP's capabilities for your HR area? Feel free to contact us!