In this context, the potential consumer's interactions with the brand are studied, analyzed, and recreated. The goal is to improve them and make the process as attractive as possible for the consumer.
What is the Customer Journey?
For a long time Customer Journey was considered a linear process. However, current observations clearly show that the Customer's interaction with a website, e-commerce site, storefront, a sales representative, or materials available in the media takes place in parallel on different levels. That is why it is so important to make the path to purchase as easy and attractive as possible for a consumer experiencing a brand across all channels. This is not an easy task given the fierce competition among e-commerce sites, but it guarantees great success for the brand. It has been proven that a properly researched and executed Customer Journey brings 10-15% more revenue to the company.
What makes up the Customer Journey in the context of e-commerce?
This process is created for the sales process and defines the Customer's interaction with the brand or product being promoted. Due to the popularity of the online channel, e-commerce has become one of the essential elements of this process.
In order to ensure efficient contact with the Customer and build their loyalty, it is necessary to meet certain conditions. In order to get the most comprehensive development plan and in-depth analysis of the e-commerce platform you operate, it is recommended to recreate the so-called Customer Journey map, which is a map of the consumer's journey through each stage of contact with the brand. The perfect Customer Journey consists of:
1. Customer touchpoints
This refers to every moment a potential buyer comes into contact with the brand. It takes into account the consumer's interactions in various fields: social media, e-commerce website, brick-and-mortar store, press, TV commercials, Google ads, or recommendations from friends. Each of these interactions should be reflected in the Customer Journey map.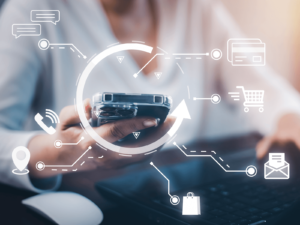 2. Customer moments of truth
The moments when the Customer's perspective on the activities of the observed brand changes. This can be done through CSR (Corporate Social Responsibility) activities, by familiarizing the consumer with the company's philosophy, or through public statements by its employees.
3. Customer pain points
All moments in the Customer Journey during which the Customer encounters complications or undesirable situations from the brand. This can include delayed delivery, problems with finalizing payments, or even price increases for products/services.
4. Desired actions
These are the Customer behaviors that the seller of the products/services expects from them. They should be consciously triggered by specific actions of the seller, such as diversifying the shopping platform, offering promotions in both traditional and online stores, and using solutions that are most attractive to the consumer.
5. Completed actions
These are interactions completed by consumers that indicate whether the desired actions were triggered.
Creating a Customer Journey map is extremely important in the context of e-commerce. Analyzing this process helps to fully understand the Customer's actions, what drives them to buy, and what difficulties they encounter along the way. It is worth defining it for both individual and business Customers, especially in the context of omnichannel sales (multichannel activities of the consumer who, for example, sees/tests a product in a traditional store and then buys it online).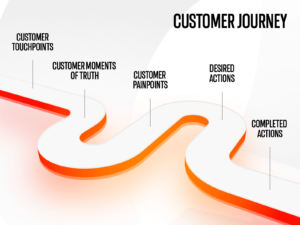 What is the mapping the Customer Journey for?
Recreating the Customer's Journey from the moment the brand first appears in their mind until they complete a purchase in a traditional store or through online sales channels brings great benefits to both sides of the transaction. A detailed description and analysis of the process that leads the consumer to a purchase allows for a better understanding of their needs and the mechanisms that guide them when choosing products/services. In turn, more tailored content and proposals, catchy advertising slogans, and even the company's charitable activities that engage the consumer increase the likelihood that the person will return to a particular store and make repeat purchases.
Engaging content and addressing topics relevant to the audience help build their curiosity and loyalty. For many buyers, not only the price of the service/product, its functionality, and advantages are important, but also the principles followed by the producer. Consistency in their promotion and pursuit is therefore important. Marketing materials, media releases, social media content, mailings and newsletters, Customer service, esthetically pleasing product displays – they all matter to the consumer. Activities in each area should create a consistent corporate image. The only way to preserve it is to walk and map out the exact path the buyer took.
Customer Journey map helps to minimize and eliminate communication inaccuracies, system errors and any defects, as well as to ensure the competence of the sales staff. A thorough analysis of the consumer's path to completing a transaction will allow you to attract as many of them as possible. When analyzing every step of consumer, it is important to keep in mind that it does not begin or end with a visit to the brand's store (physical and online). It starts much earlier and ends much later. It is actually a process that continues throughout the entire interaction with the product/service, even if the potential Customer has not yet made a purchase. A perfect example of this is any migration and integration of systems or maintenance of products. Such processes require the producer to modify the products/services already owned by the Customer persona, which also counts as part of the process.
How to create a Customer Journey map?
If you want to design a comprehensive and effective Customer Journey map, you need to look at each of its elements. Knowing its strengths, but also the areas in need of improvement, will help you provide Customers with the best experience when interacting with your brand.
Benefits of a good Customer Journey for your organization
A well-analyzed path taken by a potential Customer is actually a guarantee of their return. It is estimated that as many as 71% of consumers will make larger purchases from retailers they trust. This trust is built through a consistent and compelling Customer Journey. The better it is, the more returning consumers you will have. So when you think about improving your e-commerce platform, think about streamlining the entire Customer Journey. Such an investment in the best Customer experience pays off. After allocating a portion of the budget to improving the process, profit gains were reported in 84% of cases. Another advantage of streamlining these processes is better understanding of consumers, resulting in more fruitful marketing and sales activities. This helps save time and resources spent on this type of work.
All of these aspects apply not only to retail sales, but also to business transactions. Understanding the needs of an organization and its unique processes enables the parties to work together on an ongoing and mutually beneficial basis. Preparing special offers or even opening another sales channel for business will help build the trust of its representatives. This will make it easier for them to find the products/services they need. Good understanding of a company's needs by creating and continually updating a detailed Customer Journey map will help build a business relationship for years to come.
A better Customer Journey benefits not only the organization, but first and foremost the Customers  themselves and the company's employees, who can, for example, prepare more fruitful marketing campaigns or recoup the time previously spent on consumer profiling.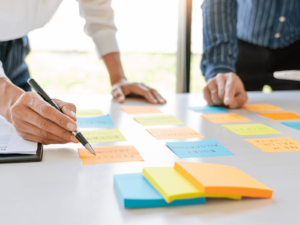 What to do to provide your company with the Customer Experience that Customers expect?
It is extremely important to ensure that each sales path works almost flawlessly and offers a wide range of solutions that are convenient for the buyer. For every company that is based on sales, one of the most important points of the business strategy should be to provide consumers with Customer Experience (in short CX) at the highest level. It is nothing more than the impression that the visit to the store or the use of product/services of a given manufacturer/distributor leaveson the recipient. Striving to meet Customer needs should be a signpost for companies developing Customer Experience strategy. A good CX allows you to ensure the satisfaction of the buyer who interacts with the brand from the first contact with it. Pay later, weekend delivery, friendly and helpful service, the ability to redirect a shipment, shopping subscriptions, newsletters synchronized with your online store offering discount codes – all these solutions make shopping convenient. Improving Customer Experience makes Customer Journey mapping more efficient. A tools that helps to check th effectiveness of actions improving the funcionallity of solutions tailored to the needs of the recipients are all applications that allow company to collect Customer feedback. It is also worth tracking what content from other channels connected with the online store is most appealing to consumers, and who those consumers are. Such touchpoints should give the recipient an unique CX. These are just examples of solutions that will only work with the support of professional advisors.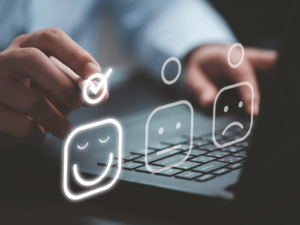 How will Hicron support your e-commerce platform in process of creating a Customer Journey Map?
If you want to create an effective process and understand the Customer Journey map, it is worth relying on specialists to conduct an analysis and create an improvement plan tailored to your organization's business processes. Years of experience in implementing complex processes for a wide variety of businesses has given Hicron a good understanding of their needs.
Are you looking for e-commerce support? Hicron experts will support you with specialized assistance and advice tailored to your organization's strategy. Contact us!
*Corporate Social Responsibility is a management strategy according to which companies consciously and voluntarily address environmental and social issues as well as establish relationships with stakeholders, including employees. This includes all types of charitable, educational, and awareness-raising activities on local and global issues.
Sources: