Since June 2021 Hicron has been a proud holder of the TISAX certificate, intended primarily for companies working for German clients in the automotive industry.
What does this mean?
Thanks to the TISAX certificate, Hicron will be included in a dedicated system on an official list of companies meeting specific standards of information security. As a result, potential clients will perceive Hicron as a reliable partner for cooperation. In the TISAX standard, it is the client who determines the security level of their contractor. Hicron, as the company that wants to establish cooperation, must adapt to the requirements. Previously, contracts were signed conditionally, but as of 2021, the certification is required for cooperation with German companies from the automotive industry.
TISAX is a standard that cannot be introduced within six months, a year, or even several years in certain cases – it is a very complex process that requires years of preparation and long-term planning. This is why the changes were not introduced at Hicron overnight and are not new to the company.
Security perspective
Investments in security are one of the strategic goals of companies, treated by management boards as a priority. As a business partner, we know that we are a link in our clients' security systems. Certificates of compliance with security norms and standards do not remain valid indefinitely – it is a process of continuous improvement and increasing the level of security.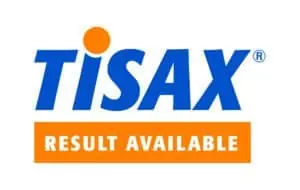 Not just ISO 27001
The TISAX and ISO 27001 standards are complementary. When entering the certification process for compliance with the ISO 27001 standard, we became convinced that the previously adopted assumptions regarding data protection and information security had been correct. However, the TISAX standard tells us specifically what we need to do to comply. The fact that we had already been compliant with ISO 27001 definitely made it easier to complete the TISAX certification process. TISAX, however, additionally indicates specific actions to be implemented in order to obtain the required score.