SAP FIORI – what is it?
In the simplest terms, SAP Fiori is an overlay for ERP systems, allowing data to be presented in a clear and legible way. Thanks to this modern interface, using ERP software is easy, even for technological laymen.
Contrary to appearances, this is not a single app. SAP Fiori is an open collection of applications that is constantly being added to, with Hicron modifying both existing and creating completely new products. What we see when working with an ERP system or with a SAP product is a whole system built of small building blocks – individual apps, each of which can be adapted to virtually any specific business needs.
All these apps have one thing in common – the data they collect and analyze is presented in a highly legible way as graphs, charts and tables that allow at-a-glance assessment of the status of a given process. Forget about having hundreds of headings and loads of buttons, like the regular SAP GUI. Now you don't have to look for you data – it's all right there.
SAP FIORI – system requirements
Apart from SAP 4/HANA, Fiori can also be found in new company solutions, as it can also be used with legacy software, provided that it is updated. The most important thing to remember is that SAP Fiori requires a HANA database to operate. Only then can the appropriate environment be provided, including instant data download.
The Fiori environment is one of the largest of the SAP 4/HANA assets. This complex ERP system not only allows real-time access to data, but also instant processing. The software's efficiency is easy to see thanks to its modern interface. Depending on the applications in use, data values are constantly updated in the main panel. For example, the number of payments to be verified, or the number of open cases with customers. We can also see detailed information immediately upon selecting a specific application. And all this is available at once – without waiting for data to be downloaded and processed.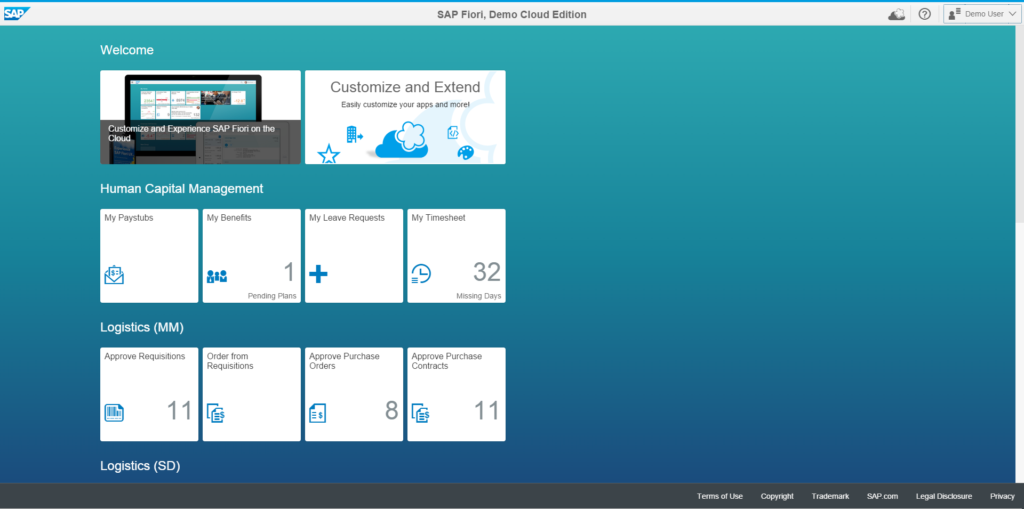 Source: https://blogs.saphana.com/
SAP Fiori – BENEFITS TO YOUR COMPANY
If you want to know how introducing SAP Fiori to your backend will affect how you run your business, the following table presents a brief summary of the most important improvements:
Differences between
SAP GUI – earlier interface version
SAP Fiori app suite
Navigation

Multiple tabs – frequent navigation between different pages during one process.

Interactive main view – changes can be made on one page, without having to go through different tabs.

Search

Once a request is sent to the system, the result generation process begins only after the entire inquiry has been entered.

In real time – the system analyses the database as the inquiry is being entered.

Appearance

Classic appearance – static drop-down menu, simple input fields and button graphics. More information is presented at the expense of readability and transparency. Tables and fields are not always sized to their headings.

Modern design – both icons and page layout, and the way that data is presented, is both transparent and clear. The amount of text and fields on a single page is limited.

Data availability

Data is presented mainly as text, in tables.

Data is presented as graphs, tables, charts and calendars.

Device

Designed to work on computer screens.

Designed to work both on computers and on mobile devices, including smartphones.
Analysis based on side-by-side comparison.
The effects of these differences are primarily on work culture. SAP Fiori allows for faster work, with less clicking between different windows, as well as real-time data processing – the time savings here are significant.
Does this mean that SAP Fiori will completely replace the GUI version? Unfortunately not – at least not yet. Many transactions carried out via the classic GUI still lack comparable applications in Fiori. If you're wondering whether specific processes in your company can be adapted to the modern Fiori interface, please contact our consultants. They'll determine which applications you'll need, how we can we modify them for you, and advise you on which ones are better-suited to earlier GUI.
SAP Fiori – ready-made solutions
Although not every business process can be implemented immediately in the Fiori environment, it doesn't mean there aren't enough applications ready to go in your company right now! Here's the current list of all available official SAP-made applications.
Even now, there is a wide range of applications, including analytical solutions (KRI risk indicators, KPI efficiency, graphs and charts); transaction solutions (for customers and employees, creating and receiving sales orders, invoicing), and 'fact sheets'. These are clearly presented data sets for individual entities or processes, presented in spreadsheet formats.
Case handling in a Fiori environment facilitates user division into roles. Depending on their role, employees gain access to other sets of tools, in other application catalogues. Thanks to this system of role-based assignments, regardless of the number of applications available there is no possibility of unauthorized access to restricted tools.
When planning our IT solutions, we focus on matching your business needs, which is why it's also possible to create applications tailored to specific needs. When planning a migration to S/4 HANA or implementing a new UI/UX, think about the functionality needed in your company. Together with Hicron's consultants, we'll analyze the business processes in your enterprise and create a solution from scratch, just for you.
Any more questions? Or maybe you're wondering what a SAP implementation from Hicron looks like? Find out more from the Offer tab or contact our consultants!