SAP HCM Payroll – Simplicity and versatility
In modern and successful organizations, people are the primary value, and their interests are put first. Therefore, proper management of documentation and financial resources allocated to employees and service contractors is essential.
Payroll is one of the key components of the SAP HCM module. The primary function of the solution is to process the company's employee payrolls. They were constructed in such a way as to enable the automation of all processes regarded to the handling of documentation, both financial and employee-related. When the SAP HCM is combined with a self-service portal, employees can themselves issue requests, e.g. regarding business trips. The solution also makes it possible to import information about sick leaves from ePUE and settle them on payrolls. With this software, employees can settle business trips themselves and obtain pay slips.
Accountants and the HR department, on the other hand, can send documentation to the relevant institutions from a single system. This streamlines and speeds up the organization's work.
Comprehensive payroll functions of SAP HCM
The SAP HCM payroll solution provides the organisation with a range of functionalities that ensure the continuity of its business processes and undisrupted, efficient operation of every department. Here are just a few of them:
SAP HCM Payroll settlements
This tool is used to perform both current and regular, future and retroactive settlements. It is especially useful in organizations with a large number of employees or ongoing collaborations with other companies, such as suppliers. SAP HCM Payroll settlements can be performed in different ways, giving users numerous options. One of them is the collective settlement of a selected group of people of any size. By creating a single settlement area, the user can simultaneously settle remuneration, for example, on an hourly, monthly, or piecework basis.
In this case, the catalog of remuneration components, delivered with SAP HCM integration, may prove very helpful. It is a template for remuneration settlement, and also serves as the basis for adjusting the software to the user's needs. It enables the attribution of specific characteristics to the settled group. This allows you to automatically settle payments assigned to a specific date or employees/contractors/associates subject to specific forms of remuneration. Thanks to its versatility, this function also lets you, for example, settle outstanding salaries of employees who no longer work for the organisation.
 Adaptation of the SAP HCM Payroll solution to legal changes
Account settlements are not about calculating salaries, paying taxes, and settling invoices. It is also a difficult art of understanding tax law and insurance formalities. Payments in SAP HCM will prove perfect here as well. The software is continuously updated and adapted to changes in human capital management regulations. It allows you to automatically calculate social insurance contributions, employee capital plans, taxes, and various benefits, saving the time of HR employees.
Retroactive settlement
This feature protects the organisation from unbalanced payments linked to past settlements. If there are financial obligations on the part of the employer resulting, for example, from an employee's sick leave for the previous month or retroactive pay raises, the system automatically balances the amounts in the payroll for the current month. This also applies to corrections to invoices sent, for example, by a service provider. The SAP software registers such arrears and the obligation to re-settle previous months. Based on the new calculation, it applies the difference to the current month, thus making an adjustment.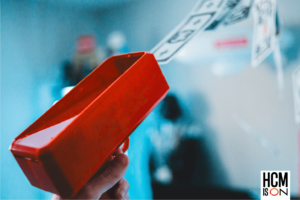 What are the organizational benefits of SAP HCM and the transfer of payroll processing to this solution?
The implementation of SAP HCM Payroll in an organization allows all its users to automate numerous processes. It provides employees with comfort when working with documentation and settling accounts, as well as with a great deal of independence.
The integration of the solution has many advantages. We use them ourselves at Hicron. Years of experience in using payment processing in the SAP HCM module allow us to clearly see the benefits.
These include:
improved circulation of documentation of employees and clients of the organization,

need for paper documents reduced to the necessary minimum thanks to the self-service function,

wide range of functionalities and paths for their development, tailored to the user's needs, reducing the number of systems used for payroll settlements,

payroll flexibility in the module, leading to the optimization of business processes related to the handling of finances and documents linked to human capital management in the organisation, administration of employee data, as well as the settlement of their payroll; changes in documentation can be made in real time,

correctness and consistency of data thanks to reliable handling of HR and payroll processing, leading to process automation and time savings,

structured procedure for entering employee data for specific HR events; thanks to infotypes, which contain all the necessary information about employees, and a system that supports the user in their proper completion, HR processes take place in the correct order and the risk of omitting important, required information is minimized; additionally, the data related to these procedures is stored in the SAP HCM system for a period determined by legal requirements, so users can access them freely,

generation of documents using SAP HCM, enabling the standardization of their templates, automatically populated with relevant data from the employee's file, where their documents are also stored in an electronic version, which significantly facilitates access and improves the work of the HR department,

automatic collection of the payer data required for the purpose of social insurance; once all the required data is collected, it can be used to generate an XML file and import it to the Payer,

storage of all data regarding the employee's seniority and working time in the SAP HCM system, so it is possible to automatically generate holiday limits, while cataloging absence times makes it possible to keep accurate records of working time,

automatic creation of reports enabling the introduction of multiple payroll components for multiple employees in a short period of time by sending data to payroll infotypes,

automation of payroll calculations thanks to a control record; it imposes a settlement period and defines the maximum time for retroactive calculation of remunerations, which frees users from the need to control the payroll of employees.
What are the benefits of cooperation with Hicron?
As a long-term, certified SAP partner, we have earned the trust of Clients from all over the world. We are a Polish company that aims high and implements global projects. We carry out ERP software implementations for organizations with thousands of employees. We design dozens of customized solutions tailored not only to the SAP system but also to the needs and specific business processes of our Clients.
If you are still considering moving your organization to SAP HCM and have questions about payroll in this module, please contact our specialists. At Hicron we will guide your company safely through every step of SAP HCM technology implementation and help you create solutions tailored to the needs of your company's HR staff.