Recertification – expression of trust on the part of SAP

We are proud to inform that SAP has once again recertified Hicron as a Partner Center of Expertise (PCoE). This proves that we meet the requirements that SAP set for its partners.
Obtaining the PCoE certificate allows us to provide SAP services and guarantees that we perform them to the highest standard. Only companies with the certificate can provide their services under the SAP banner. The PCoE audit is based on data from Quality Measurement Reporting (QMR). If we meet the QMR KPIs, we can be certified without re-auditing. For Hicron, it is not only a great sign of appreciation, but also a condition for further development.
The PCoE certificate is a prestigious distinction, but not only that. It is a proof that our cooperation with SAP is a fruitful partnership, and for our clients – a confirmation of the high quality of our services.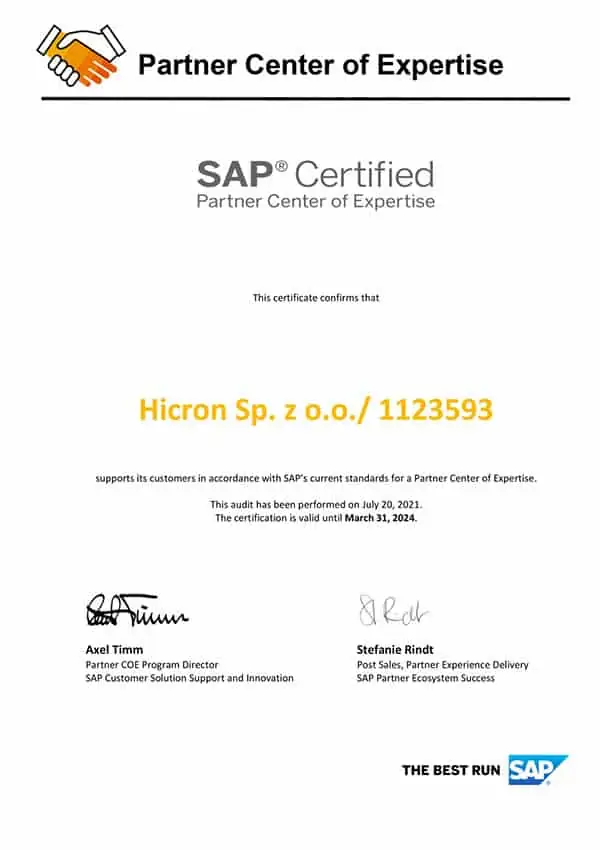 Not for the first time
We are, therefore, extremely pleased that SAP once again – for the fifth time – honored us with the PCoE certificate, with automatic recertification granted for the second time in a row. It is an expression of great trust in Hicron. This time we will be entitled to sell services under the SAP banner until 2024/03/31 – such a long period of certificate validity is an additional distinction for us.
Automatic certification means that SAP appreciated us as a VAR partner in terms of high standards of service provision. Not every company gets recertified in this way, so we feel really valued. Once again we have proved the highest quality of maintenance services as a VAR partner, starting from the sales process. When looking at the certificate, we realize that the hard work associated with providing high-quality services brings the expected results.