Organizing training and workshops and providing the staff with functional tools and additional educational materials allows both the company and its employees to grow. Behind each dynamic and resilient organization on the market, there is a group of excellently trained specialists, but at one point they, too, had to take their first steps at their workplace. There comes a time in every organization when new staff members are hired. Training them is essential but may pose some challenges. The organisation needs to look after them and ensure that they receive reliable knowledge of the company's practices, values, and unique qualities. However the enormity of the informations that needs to be absorbed during onboarding can test anyone's motivation.
SAP SuccessFactors Learning – from junior to expert
Hence the importance of providing newcomers with a comfortable environment for them to continue learning and honing their skills. SuccessFactors Learning delivers such a space and enables the easiest and quickest knowledge sharing for organizations. It is an ecosystem that allows people in the enterprise to develop their skills, learn conveniently, and take advantage of educational materials. The module's environment provides the users with the right conditions to expand their education without being distracted from what they are learning, allowing them to gradually increase their competencies, educate themselves in accordance with their chosen career paths, and specialize in their respective fields.
What will you gain from SAP SuccessFactors Learning?
The module provides the organization with a space that is personalized and customized to meet the needs of staff members, so that they can grow their professional competence. Expanding education and learning new skills will present them with new career pathways. Using the platform, training can be provided to employees from all sectors in order to propel the organisation forward by advancing their careers. As the staff members are promoted, they open up space for their successors, thus helping the organization to develop. This solution saves money that would otherwise be required to provide additional training. Senior workers or those who have more experience in organisation, no longer have to spend time teaching their less skilled colleagues. With SuccessFactors Learning, newcomers only need to be given adequate space in the system, so that they can explore the topics they are interested in. This provides both newly hired staff members and candidates for higher, senior positions with a sense of security while giving their colleagues the time they need to complete projects.
Another huge advantage of the system is that it fosters commitment and enthusiasm. Being able to see the paths of development and career advancement available within the company and having unlimited access to educational materials, team members can appreciate the benefits of their involvement in the life of the company. Thus, the module increases loyalty and satisfaction among workers, including those with little seniority. And all this is achieved in accordance with the company's business strategy. The module allows education to be programmed in a way that helps the organization succeed.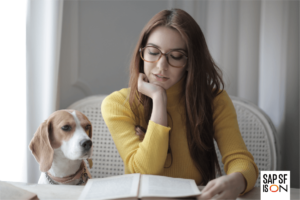 Unique features
What makes this solution stand out is its functionality and complete focus on the user. The tool is designed to maximally adapt to the user's preference.
Maintaining user engagement
SAP SuccessFactors Learning delivers a unique personalized learning experience. The user panel, the notifications received by the user, as well as the inspirations, topics, and courses they have at their disposal are all tailored to their individual preferences. Users make their own decisions about their education process and set goals they wish to follow with the help of the module. The system provides assistance and eliminates distractions. It also guides the users through a curriculum map, directing them sequentially to relevant content and adapting to their changing skills. The training process can also be supervised by analyzing surveys and issuing appropriate certificates and electronic signatures.
Establishing contact between users and unlimited access
Learning in a group can yield remarkably positive results. That is why SAP SuccessFactors Learning enables users to keep in touch with one another and exchange learning materials, such as videos, text files, blogs, presentations, and more. The system helps establish a social network where workers can discuss materials and help each other. The users can access courses and connect with mentors, share their recommendations with others, and create schedules. As a result, learning becomes structured and can be easily planned. It can also be synchronized with third-party applications, such as Zoom or Microsoft Teams, to create virtual learning rooms. This eliminates needless relogging and saves time and energy from being wasted on acquiring passwords to access meetings. With knowledge of SAP SuccessFactors Learning, staff members can exchange informations and materials and engage in live discussions with their peers in convenient learning rooms. In addition, access to the module is unlimited. Users can log in using desktop or mobile devices, either online or using the offline mode.
Empowering and mobilizing employees
Combined with the other SAP SuccessFactors solutions, the Learning module makes it even easier to educate workers and ensure their development. Users can link their learning to their development plans. The system provides them with learning opportunities aligned with their intended goals in the organization. Access to not only training materials, but also project space and marketing and business content, gives staff members a broader perspective and context that help them understand their place in the organisation. This allows them to clarify their career goals and development needs and reassures them that the activity of their company is well-considered and organized. In turn, this provides them with additional motivation to develop further within the organization's structure and thus contribute to its success.
Learning is the key to success
Benefits from training are not limited to the staff members themselves. A team that consists of motivated, satisfied, and informed individuals constitutes an exceptional value for any company. The more experience and specialist know-how the company's staff have, the more confidence they inspire in customers. Therefore, SAP SuccesFactors Learning has a direct impact on sales performance, as professionalism and continuous expansion of employee knowledge translates into lead generation.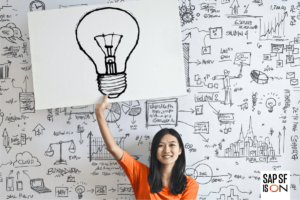 Why use Hicron's support when implementing SAP SuccessFactors Learning?
As specialists experienced in conducting implementations, at Hicron we know how to tailor solutions to the needs of organizations. We train our teams daily in consulting, new technologies, and programming. Over fifteen years of experience in business, successfully completed projects in dozens of organizations in Poland and abroad, and the title of SAP Gold Partner make us a leader in SAP software implementation. Do you have any questions? Contact our experts!