Introduction
The HICRON Fiori for Automotive component provides automotive industry-specific functionalities enabling Vehicle, Parts and Warranty Claims processes to be managed using the latest SAP S/4HANA related technologies i.e. SAP FIORI UX and Embedded Analytics. Below, we will briefly introduce the main features of these technologies before presenting Hicron Fiori for Automotive main assumptions and functionalities.
SAP FIORI – introduction to modern User Experience
SAP FIORI is a native User Experience for SAP S/4HANA being also available for SAP ECC systems. The main goal of SAP FIORI is to personalize and simplify the user experience (UX) for all SAP-based applications. Using modern UX design principles, SAP Fiori delivers a role-based, consumer-grade user experience across all lines of business, tasks, and devices (desktops, tablets and mobile phones). When working with SAP Fiori, the user logs in to his web-based launchpad, central and role-based entry point, to access all apps that he is authorized to use. SAP FIORI is a front-end layer managing back-end S/4HANA data in real time. The user-centered design concept focuses on the way employees work and offers a variety of business benefits:
Increased productivity – faster and direct access to relevant information and applications

Transparency on items needing your attention – timely notifications

Helps users decide what needs to be done next

Allows users to take quick and informed actions

Increased user satisfaction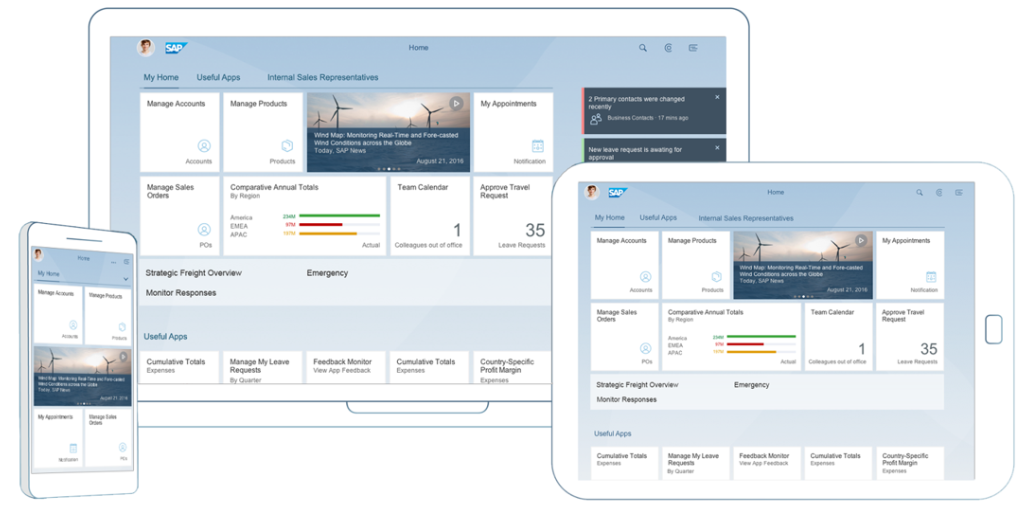 Source: www.sap.com
S/4HANA Embedded Analytics – Insight-to-Action
Another important function is SAP S/4 HANA Embedded Analytics which is a Concept, Content and Toolset to enable Embedded (built-in) Analytics, Real-time Operational Reporting, and Smart Business Cockpits. It is natively available in S/4HANA without any additional license or implementation costs. It enables users to perform real time analytics and provides instant insights on live data without data redundancy or any latencies. It is an integrated transactional and analytical data platform to process complex analytic queries as a harmonious data collection based on a single source of truth. Combined transactional and analytical information means that analytical functions are built-in the business processes providing necessary insights wherever required, enabling insight-to-action scenarios and improving overall process efficiency. Using one common super-intuitive User Interface, users have access to personalized views of different data queries, reports, KPIs, analytical apps, smart business cockpits, etc.

Source: ww.sap.com
Main features of S/4HANA Embedded Analytics:
Real-time analytics

Combination of analytical and transactional information

Insight-to-action scenarios

Fully personalized views

Navigation to other FIORI apps that are semantically linked to the data

Slice and dice, sort, filter

Drill down, drill across

Swap rows and columns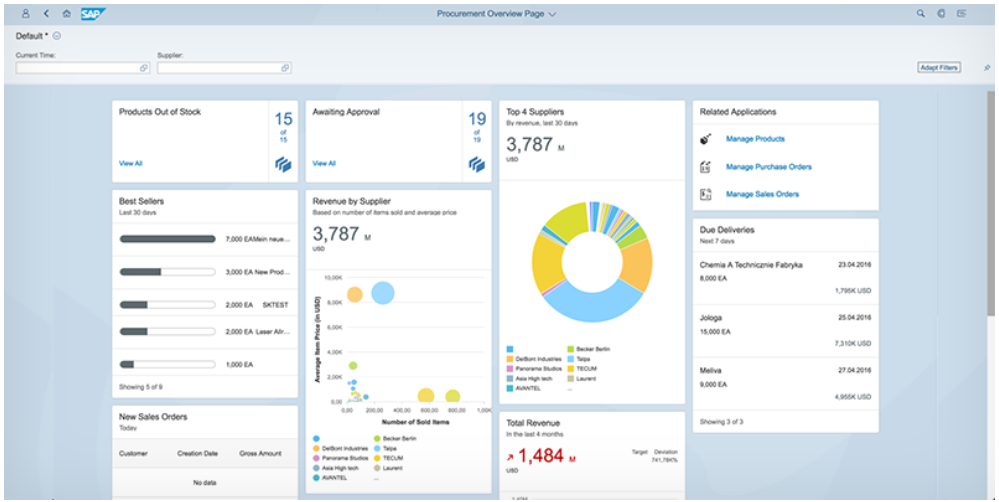 Source: www.sap.com
Hicron Fiori for Automotive – Introduction
Hicron is always ahead of trends, so in addition to standard SAP S/4 HANA functionalities such as SAP FIORI UX and Embedded Analytics, we have prepared our own Hicron Fiori for Automotive package. It is a set of dedicated Fiori applications that enrich standard back end industry-specific SAP for Automotive components like Vehicle Management System, Warranty Claim Processing and Parts processing by enabling them through the newest FIORI UX, including latest analytical possibilities and mobile scenarios. The user has access to simplified, personalized, mobile functionalities through which back end processes are managed in real-time. Hicron Fiori for Automotive is user-centric and role-based so every user can process data in a defined, limited scope, controlled and secure manner.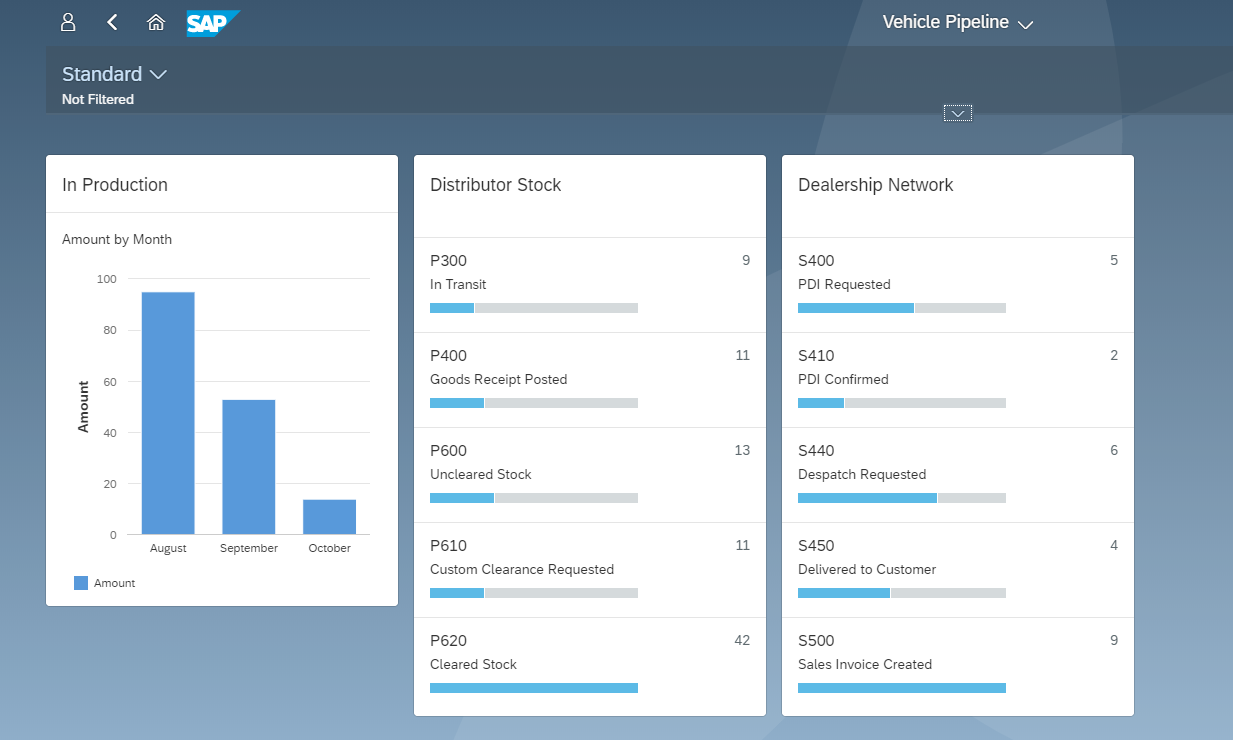 Keeping all of the above in mind, multiple Hicron Fiori for Automotive use cases as provided, including:
Importer Employees UX – main SAP S/4HANA entry point for the importer, distributor backend users, where all S/4HANA components and processes can be managed, benefiting from enhanced user experience and advanced analytics.
Dealer Portal – Fiori as a central hub for dealers, which are able to easily communicate with the importer, accessing and managing the required S/4HANA real-time vehicle, parts and warranty-related data.
3rd Party access – Fiori for Automotive apps enabled for multiple 3rd party partners e.g., 3P Logistics partners, external PDI, insurance companies, executing business process steps and confirming operations in real-time through web or mobile access.
Mobile scenarios – dedicated mobile apps with integrated OCR, QR, Bar-code scanners to be used internally by the importer, dealers and 3rd parties.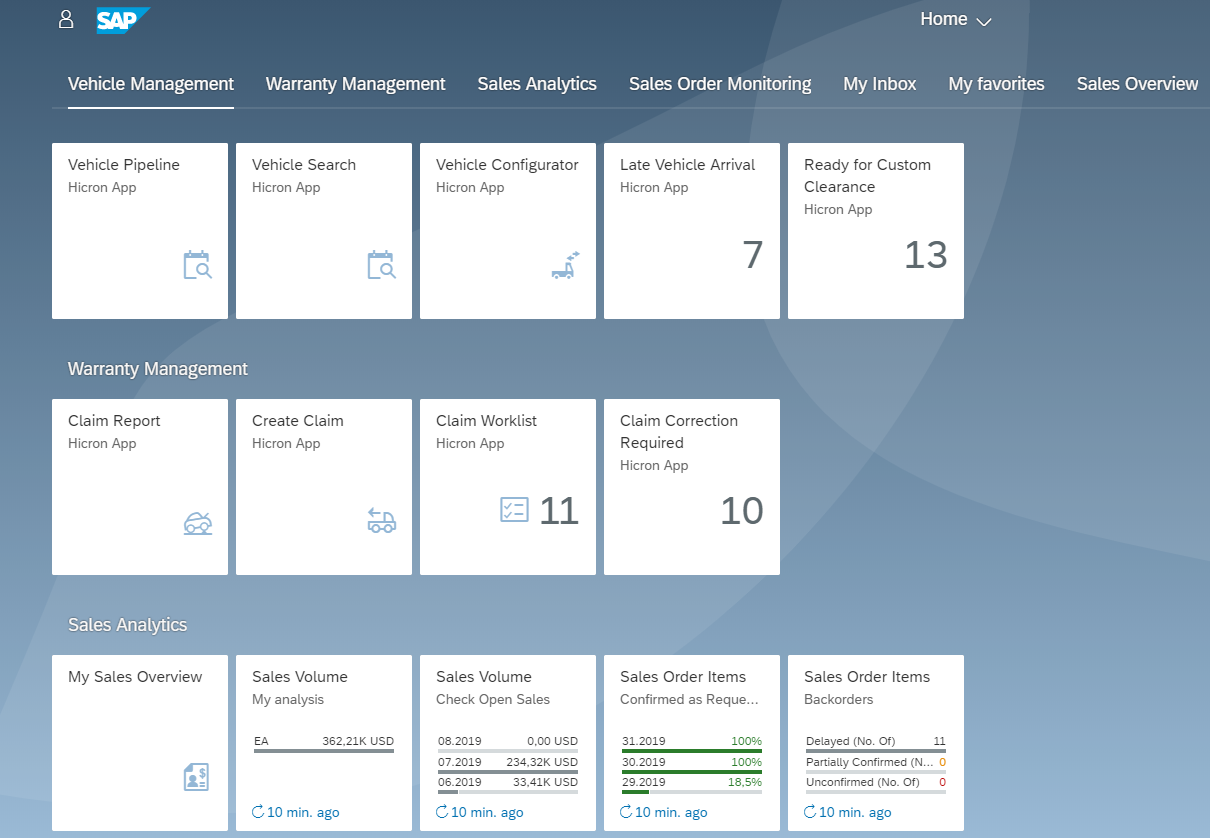 Capabilities
personalized and simplified user experience (UX) for SAP Automotive applications across all devices (desktops, tablets and mobile phones) both at the Importer and on the Dealer side.

responsiveness – can be used on any device (desktops, tablets and mobile phones)

user friendly and intuitive interface designed in accordance with UX standards

flexible analytical and reporting possibilities thanks to embedded analytics
Business benefits
digital transformation at hand

full visibility and control end-to-end vehicle logistics chain

real-time analytical and operational data access

seamless and secure system access for 3rd parties e.g.,

dealers, logistics operators, financial institutions without any additional interface implementation effort thanks to simplified and personalized UX reduced end users training costs