The situation of the automotive sector and its growth perspectives are good. In order to better manage the business processes in this still developing industry, the German SAP has prepared a dedicated VMS (Vehicle Management System) solution – an application designed for companies operating in the automotive area in the broad sense.
How does it work?
VMS supports the business in the sale and optimisation of processes needed by car importers and dealers when contacting the original equipment manufacturers (OEMs) and dealers in new and used vehicles.
The graphic below 1) depicts the use of the VMS module in the purchase, sale and servicing of vehicles.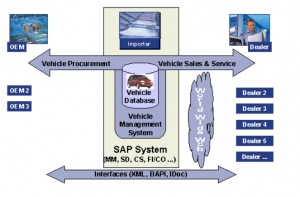 The VMS is capable of full integration of all relevant business processes, such as sale, purchase, rework, returns processing, trade-in and processing of services. It can also archive vehicle data. In other words, the application enables flexible response to the needs of the customers in the production area and short delivery times with reduction of warehouse stock and sales or distribution costs.