What is SAP Analytics software?
SAP Analytics Cloud is your three-in-one data analysis tool. It contains:
Business Intelligence component;

Planning module;

Predictive analytics tool.
As the name suggests, it is based on the cloud. It means the provider – the SAP company – maintains the application, and the customer receives remote access to the application via a browser.
SAP Analytics in the cloud – what are the benefits?
As an SAP consultant, I think using Software-as-a-Service (SaaS) technology brings many advantages for users.
You do not have to install nor run the software on your local machine.

You do not have to pay for installing and maintaining the software.

You are using always the latest version of it.

Because of subscription-based payment, you can predict the costs.

In case of any problems or bugs, you can always contact SAP Technical Support or consult a guide that the tool contains.
Many clients are concerned about SAP Analytics Cloud's security and the fact that SAP data centers store their analytical data. Remember: SAP has strict security procedures, appropriate for GDPR, and similar privacy laws. Data cannot be access by anyone and is not processed. Using SAP Analytics Cloud does not violate any privacy regulations.
Three main features in one tool
Let's talk more about what you can do with SAP Analytics Cloud. We will look closer at Business Intelligence, planning, and predictive analytics, focusing on their functions in a company.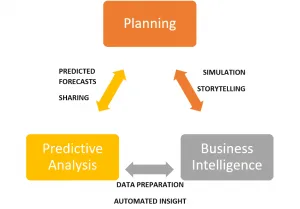 1. Business Intelligence (BI)
The main goal of BI is to transform data acquired by a company into business knowledge.
With BI you can store data, prepare it for analyzing, and then create rich visualization and dashboards. That way, data is presented in a way that is easy to understand and allows you to draw conclusions and notice regularities.
BI component allows you to co-operate with other users – for example in your team, or between teams in one company, or even between teams and the head of department or CEO of that company.
I remind you: SAP Analytics Cloud is secure. The data you send to the tool is inaccessible to anyone and is not processed in any way.
2. Planning
With this branch of SAP Analytics Cloud, you can use historical data to create planning models. Then you can use those models to create forecasts, for example for the next year.
Forecasts and predictions are different. Forecasts base on historical data, they do not search for connections between various pieces of information. Planning models are good to explore, for example, yearly trends in your industry.
It is important to point out that SAP prepared another tool for planning – SAP Business Planning and Consolidation (SAP BPC). The range and features of this tool differ from SAP Analytics Cloud. Luckily, it is possible to fully integrate those two programs. That means if you created any planning models in one tool, they will be available in the other one.
3. Predictive Analysis
The last branch of SAP Analytics software allows you to explore hidden relationships between pieces of data. The results depend on the amount t and type of the data we load to this tool.
From my point of view, one of the most important things is integration with a programming language R. It allows you to create customized visualization. The R language is used to create statistical charts and functions. So if at your company works a person that knows this language, they can create a visualization that will have additional functionalities.
Swiss tool for your company – benefits of SAP Analytics Cloud
Now you know what you can find in SAP's analytics software. But features and modules are just a part of the story. Let's see what are the most interesting elements of this tool from the consultant's point of view.
What interests me the most is how SAP Analytics Cloud differs from other analytics software. SAP's product has a machine learning engine built-in. Because of that, the tool can learn how to work with data you upload – for example by adjusting data and creating its own analysis.

Integration with various sources of data – both on-premise ones and cloud ones.

It does not matter if you are using AWS, Azure, Google, or your private servers to store your data. SAP Analytics Cloud can download them from any database.

Data can be processed in real-time, which guarantees a great speed for the process. But if you want, you can decide to import your data and work on the package of information that does not change in real-time.

You can use SAP Analytics Cloud on mobile devices, such as tablets and smartphones. It utilizes mobile functions to the maximum, and allows you to talk with other users while exploring visualization or using the tool's functionalities.