How to choose tools that will help your enterprise manage projects and organize processes? With so many solutions available, it can be difficult to find those that not only complement each other, but also do not complicate their simultaneous operation. At Hicron, we construct processes and manage projects using different types of software. Our developers often integrate two environments – Atlassian and SAP S/4HANA – to create a space that is optimal, modern, advanced, and maximally tailored to the needs of users and their work.
How to create a work environment conducive to project management? Which software functions need to be synchronized to achieve the desired optimization? How to plan all project stages more efficiently and quickly? The combination of SAP S/4HANA and Atlassian will certainly make it easier to find answers to these questions.
IT project coordination
Managing an IT project includes all procedures aimed at planning, organizing, and continuously monitoring all activities related to its implementation. It is expected to result in the effective and efficient implementation of IT and/or technology solutions that meet the company's objectives and business goals. 
Overseeing such projects in the IT industry requires a very specific plan. It should be based on proven practices, but also take into account the adaptation of the entire process to the needs and difficulties encountered by the team during its implementation. New technologies and solutions related to IT projects are a highly volatile and constantly evolving area. Companies that want to provide the best services in this industry must adapt to these distinctive conditions. Controlling such a dynamic and complex material as applications, extensions, or modules that expand IT programs requires not only talent, experience, and skills, but also, above all, a good strategy and the support of reliable tools.
That is why flexibility is so important not only for the manager, but also for the employees carrying out instructions under their supervision, and – most importantly – for the environment in which the project is created.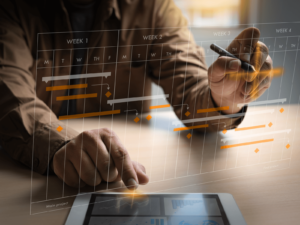 S/4HANA and JIRA Software
Although project managers in the IT industry usually have years of experience in operating advanced systems, this does not mean that they do not use help in their work. Organizing operational activities, creating schedules, tracking progress, and coordinating team activities – all of this is largely performed or controlled by project supervisors.
In the pursuit of streamlining all activities related to running IT projects, it is understandable to look for tools that simplify and automate processes. In this case, the combination of two products – SAP S/4HANA and the JIRA Software solution – works perfectly.
SAP S/4HANA offers support for IT project managers with the following functions:
setting schedules for team work, implementing new solution functionalities, performing maintenance work in Client environments,

assigning instructions to team members,

tracking the progress and workflows of different teams,

supervising project resource allocation and migration,

monitoring requests and related communication,

controlling the budget and time resources, and thus facilitating the prioritization of specific project stages,

monitoring current project performance results.
JIRA Software, in turn, enables:
creating a backlog, which is a list of all planned activities, modifying it, prioritizing the included tasks, and determining the most important stages,

managing IT project requirements as well as recording and controlling bugs, allowing the team to monitor the fulfillment of specific commitments and the managers to track and assign bugs to specific users and control their subsequent repair,

supervising schedules of activities and instructions in real time with the ability to create tasks, assign them to the right people, set deadlines for their completion, and monitor the progress,

analyzing, examining, and summarizing the progress of individual project stages, facilitating the planning of project schedules and sequences of activities performed within them step by step, as well as setting their timeframes,

communication and more effective team collaboration through the ability to discuss issues with other persons involved, comment on activities, or share files.


IT project management methodology

This term is used to describe the adopted principles, tools, and techniques used in the development, planning, and controlling of IT projects. They are used to lead the enterprise to success through the proper management of time, resources, costs, and risks. These methodologies help companies give concrete form to concepts, name and implement the goals of a given plan, execute it, and deliver the result of the work to the Client on time. 

When working on a new project, it is difficult to start if the company does not have its strategy and plan in place. Therefore, it is important to use methods that ensure ease of operation and save the team time previously spent on developing operational models every time.

In the case of many projects at Hicron, we choose to work in teams according to a very specific methodology. An e-book guide to the fundamentals and standard benefits of this strategy is available here. This specific technique ensures reduction of the risk associated with the implementation of individual work stages, faster and easier implementation, and lower costs associated with running the project.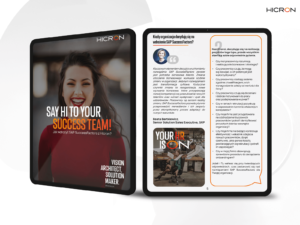 How does SAP S/4HANA and Atlassian synchronization support organizations in working on IT projects?
SAP S/4HANA supports organizations in controlling and utilizing its resources. Atlassian software, on the other hand, provides support for the work of project teams. Their synchronization can bring many benefits.
The main ones include:
More efficient teamwork
By combining the two environments, employees gain unrestricted access to the data they need, such as production line availability, budget size, important company documents, or even order progress. It also saves the time spent searching for this information and improves communication among the workforce.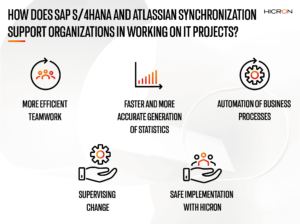 Faster and more accurate generation of statistics
With such an integrated environment, data storage and processing becomes simpler. Data from S/4HANA can be accessed at the request of users working with JIRA Software or even imported into this software automatically, without using code.
Automation of business processes
The combination of these software solutions can lead to the automation of many commands performed in the company, such as the creation of tasks in JIRA Software after registering an order in SAP S/4HANA.
Supervising change
Synchronization of these two environments can support teams in tracking changes in ongoing projects. The programs enable mutual monitoring of the progress of work in both spaces. This allows for faster detection of possible bugs and, above all, their more effective repair.
Of course, it can take a long time to integrate two environments that work so differently. However, this is not an obstacle to implementing both software solutions. There is also no contraindication to using them separately and connecting them together at a later stage. This synchronization can be done at any time, but it is worth remembering that it must be beneficial and tailored to the individual needs of the company.
Safe implementation with Hicron
Are you looking for a trusted implementation partner for your business? Do you need the support of experienced specialists to tailor the entire S/4HANA and Atlassian synchronization or implementation process to the specific requirements of your company? At Hicron, our experienced experts work every day to adapt the functionality of these solutions to the conditions of different companies. Specialized teams centered around both of these systems will guide you through the implementation step by step, adapting to your pace.
If you have any questions, contact us!
FAQ
1. What is JIRA?
JIRA is a project management system from Atlassian. This program is particularly popular with teams involved in software development.
2. What are the main functionalities of JIRA?
It helps create strategies to coordinate development activities, achieve efficient control and correction of bugs, track tasks, prepare reports, or establish and supervise project requirements. It also improves communication in teams working together. What is more, it also enables the integration of this environment with applications from other vendors, such as Confluence or GitHub.
3. What benefits can the implementation of JIRA bring to my company?
This solution can support project teams at every level. It improves communication, accelerates testing and deployment, tracks changes in real time, and most importantly, improves employee efficiency. JIRA allows you to oversee deadlines, perform tasks on schedule, and helps set priorities. In addition, it can be synchronized with other applications of the producer, which significantly extends its functionality.
4. How to implement and start using JIRA?
If you want to implement this tool successfully, you should seek the help of experienced advisors who deal with such implementations on a daily basis. As part of Hicron's services, we offer professional support in the implementation of not only JIRA, but also other Atlassian tools, as well as their integration with SAP. We also organize training courses on the functionality and operation of these solutions, including on-site training. Such preparation enables efficient and effective use of the systems.